The holiday season is make-or-break time for most food service operations. While sales may be brisk right now compared to last year, don't underestimate the potential of holiday planning.
3 in 4 consumers intended to go out to eat or order takeout during the festive season, according to the National Restaurant Association.
With people ready to indulge during the holidays, you don't want to disappoint, says Christine Morgan, a Marketing Services Manager for Great Lakes and Central Regions.
"Help consumers splurge with special offerings, flavours and ingredients that enhance the off-premise experience," she says. "It's possible to build excitement for them and, with some planning, make it manageable for your staffing and service capabilities."
Understand Operational Needs
Everything starts on the operational side. Create a menu that's innovative but easy to execute. This lets you plan labour, prep space and logistics—all key to protecting brand integrity when products leave the restaurant.
These menu tips play into operational effectiveness:
Call on speed-scratch/value-added. Save labour with washed and cut salads, trimmed fruits and veggies, or pre-breaded chicken and seafood.
Offer prepared dishes. Save time with heat-and-eat foods prepared ahead and ready for delivery or pickup.
Create meal kits. Package ingredients in a branded box and include a recipe for at-home preparation.
To meet demand, restaurants also need to manage the calendar. Labour will be a nightmare if you schedule every party on Friday and Saturday. If possible, offer customers an incentive to book weekday events.
Because labour is delicate, Morgan recommends motivating your team. "Ask for their input. If they have a stake in your offerings and presentation, they'll be less stressed and more dedicated to success."
Consider Culinary Strategies
On the culinary side, expect an appetite for indulgence during the holidays. For operators, success means identifying strengths and opportunities.
"It's important to align menus with your current menus as an extension of your business," Morgan says. "Your offerings should expand on things you do really well—these menu items define your concept and set you apart."
The culinary part of the equation, she notes, calls on equal parts planning, implementation and tracking.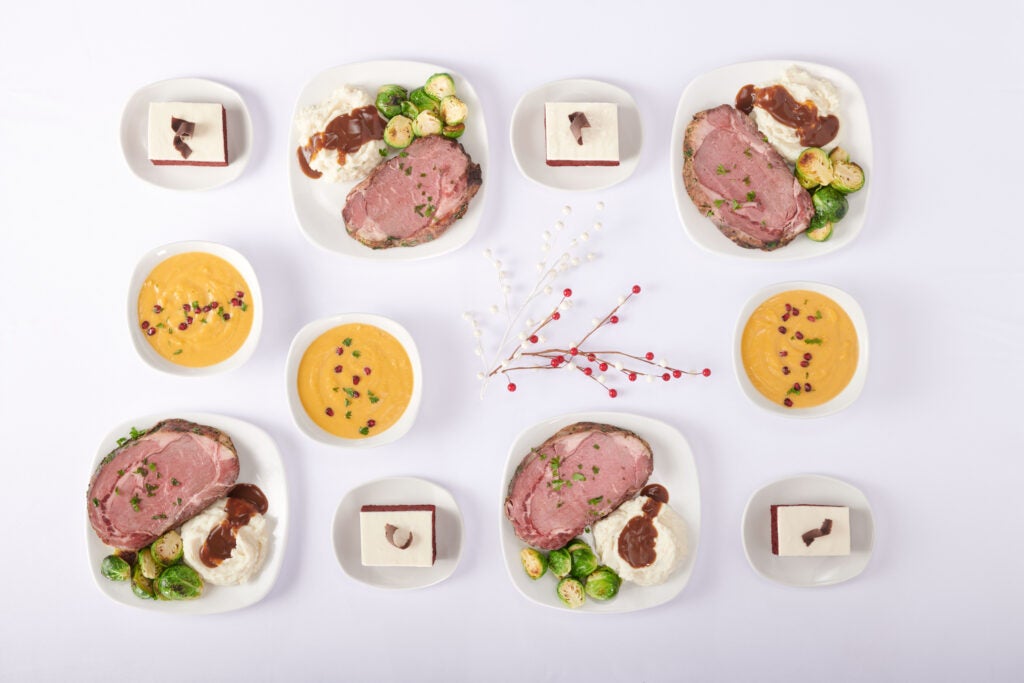 1. Plan
Manage your menu. Cross-utilize products as well as employee skills and productivity.
Match offerings to manpower. Review your preparation needs and focus on the end product/experience. You know your staff best, don't give them something that's out of their wheelhouse.
Use Gordon Culinary Pro. Cost out ingredients, determine plate price and get menu inspiration. Need ideas for holiday recipes? Check out some of our culinary specialists' favourites.
Call on experience. Reach out to past employees or students home from college for labour help.
2. Implement
Upscale menu offerings. Favourite seasonal flavours include pumpkin, cinnamon, cranberry, sage, ginger, peppermint, sweet potato, eggnog, or chocolate.
Try sensational shortcuts. Save time with thaw-and-serve desserts or coffees and shakes with a shot of mint or hazelnut.
Create nostalgia with beverages. The season calls for old-school cocktails or warm drinks like Irish coffee and cider and plays on hot chocolate like this Minty Matcha Mocha. 
Don't overlook trends. Plant-based options and alcohol-free upscale beverages can differentiate your business.
Call on LTOs. Local and seasonal ingredients work well for limited-time offers, creating "get-it-while-you can" excitement. Cross-utilize regular menu items and test items you're thinking of adding permanently.
3. Track
Do a post-holiday review. It's hard to know what's working until things slow down. If you can't track your results in the moment, take some time once you're out of the weeds to see if your season went according to plan.
Assess ups and downs. Growth sometimes requires failure. Take stock of your missteps and reframe them into learning experiences.
"Adding value wherever possible—in the kitchen, on the menu and with the experience—is the best strategy for feeding a holiday crowd," Morgan says. "It's possible to build your brand without compromising quality."