A Chicago Culinary Trends Tour shows restaurant guests notice much more than food and flavour.
Today's restaurant customers are paying more, so they expect more. One way to keep them satisfied is by paying attention to the guest experience.
Fact: Food costs and menu prices are higher.
Fact: Labour is in short supply and turnover is high.
Fact: Customers notice when quality diminishes.
Prices and labour change without warning. Quality is one thing operators can control.
What makes a great restaurant experience? Finding out is as simple as visiting other restaurants as a customer. On a recent Culinary Trends Tour in Chicago, Gordon Food Service experts not only sampled emerging creations, they took note of their surroundings. Their insights show the importance of overall guest experience.
First impressions count
"I can show you a picture of the food, but that doesn't capture the whole experience," said Corporate Consulting Chef Nicholas Gonring. "A beautiful image on your web page can bring people in, but it's the overall experience that will bring them back."
Online is where customer connections often start, says Business Solutions Specialist Eric Schamp. It should be a good experience from the start.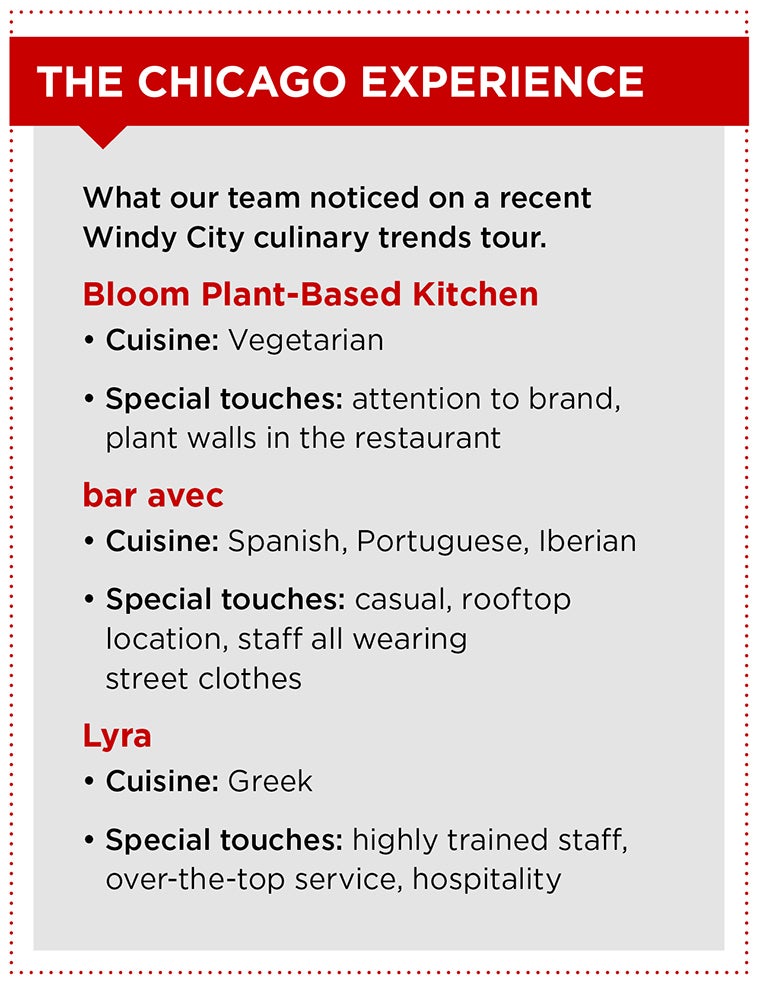 "When a potential customer is Googling 'restaurants near me' and your page pops up, what does it look like? Is it up-to-date and accurate?" he asked. "And when the customer calls, does a friendly voice answer, or is it an automated phone system? If so, is it easy to navigate?"
From that first impression to the end of meal service, operators should have processes in place. Based on their experience in Chicago, Gonring and Schamp pointed out observations and recommendations in three areas.
1. Making an entrance
When you enter a restaurant as a dine-in or carryout customer, the front door is a place for hospitality to shine. A friendly greeting makes first-time guests feel welcome, regulars feel recognized.
Beyond the host stand, guests first notice what they see. The colour of the walls, the design, the furniture, and the table settings.
Before dining, some guests make a quick trip to the restroom, so don't overlook them. "If the restroom is dirty, then people will wonder what the kitchen looks like," Schamp noted.
At Bloom, a vegan restaurant on the tour, music played in restrooms decorated with wallpaper featuring fruits and vegetables. Dining room walls were lined with live plants mounted on racks to reinforce the ambience.
2. Elevate the food
The menu is the star of the show, so make it inviting. Food descriptions – origins, flavours, preparation, etc. – build anticipation. Attractive food plating and presentation also enhances the experience.
Heads turned when servers at Lyra, a Greek restaurant on the tour, brought food to the table.
"They brought out lamb and carved tableside, which brings the customer right into the cooking experience," Schamp said. "They brought out pork chops sizzling like fajitas on a big wooden platter, and you say to yourself, 'I need to get back here and order them because they look amazing.' That wow factor is part of the experience."
3. Noticing the extras
Customers eat with their eyes, but every sense is part of the experience. Bar Avec, a casual rooftop bar, offers a fabulous view and fresh air. However, any outdoor experience comes with the risk of weather and pests, something operators should consider.
Aroma, temperature and volume level also affect experience.
When Gonring visits restaurants, he checks volume with a decibel meter and he also notices what songs are playing. At Lyra, he noted how music is part of the experience.
"Music makes a lasting impression, and at the end of the visit, they hand out a little card with a QR code that takes you to their Spotify playlist," he said. "The message here is, 'Take Lyra with you,' and it might get you to come back for more."