Year after year, the holiday season has filled our tables with cherished memories and nostalgia. This holiday season, you can savour that nostalgia while experiencing a delightful infusion of innovation. We've invited Gordon Food Service Culinary Specialists to unveil their most treasured holiday meal creations. Join us on this culinary journey and consider adding these to your seasonal menu.
Blackberry Dijon Glazed Quail With Boudin Stuffing
From: Chef Juan Rosado, Culinary Specialist in Texas
The holiday season doesn't have to include a traditional stuffed turkey or glazed ham. Why not serve something on a smaller scale that still invokes the comfort and style of the season? Chef Juan Rosado had that in mind when he created his Blackberry Dijon Glazed Quail – with a Southern-style twist.
Covered with blackberries and the bite of Dijon, Rosado says the sweet and savoury combination makes it a real holiday treat. He plans to serve it with collard greens as his focus is on Southern-style cuisine these days. 
Ultimately, Rosado said he wanted to create something that inspired customers to start "a new holiday tradition."
The recipe is versatile, and any stuffing will pair well if an operation prefers a more traditional route, he said.
"The best thing is the combination of flavours and textures," he notes. "The bacon adds a smoky flavour and crispy texture, complementing the tender quail."
You can serve this dish year after year with new spices or presentation styles to keep it "fresh and exciting," he points out.
Rosado also suggests experimenting with "seasonal ingredients and wine pairings" for added variety.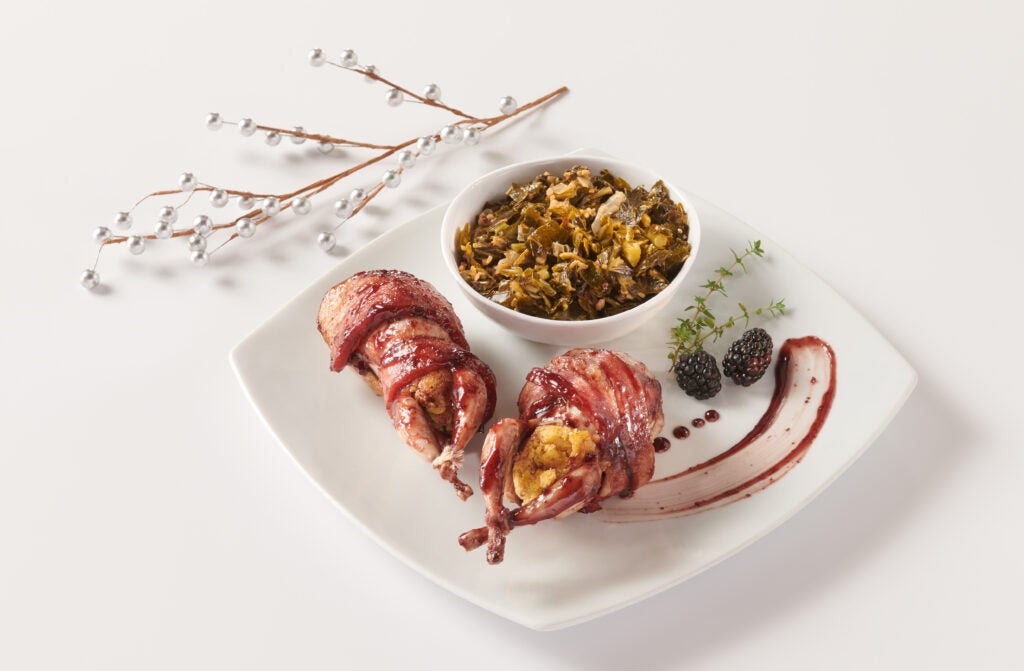 Holiday Spread With Rosemary Bread
From: Chef Michael Viloria, Culinary Specialist in British Columbia
The staples of a traditional holiday meal don't have to be served in a conventional way. The classics can be transformed into unique, reinvented dishes. Take Chef Michael Viloria's holiday spread as a delicious example.
Viloria takes pulled turkey confit and savoury, toasted rosemary focaccia and transforms the pair into a memorable spread he makes every year for his family. s
"Turkey is always better the next day, and I wanted to share a versatile and delicious recipe for the holidays," he said.
Viloria took what he learned from culinary school and added some inspiration from past chefs he worked with. He aimed to create a "shareable item" with several options.
"I like to confit the legs of the turkey. The result is tender and flavourful," he said. "I turned the turkey confit into a classic rillette (spread) and served it with fruit condiments and rosemary toasts."
The result is a popular item that takes little time to make.
"Whether it was on my seasonal menus, served as a family meal, or during the holidays with friends and family, it was special and created some great memories."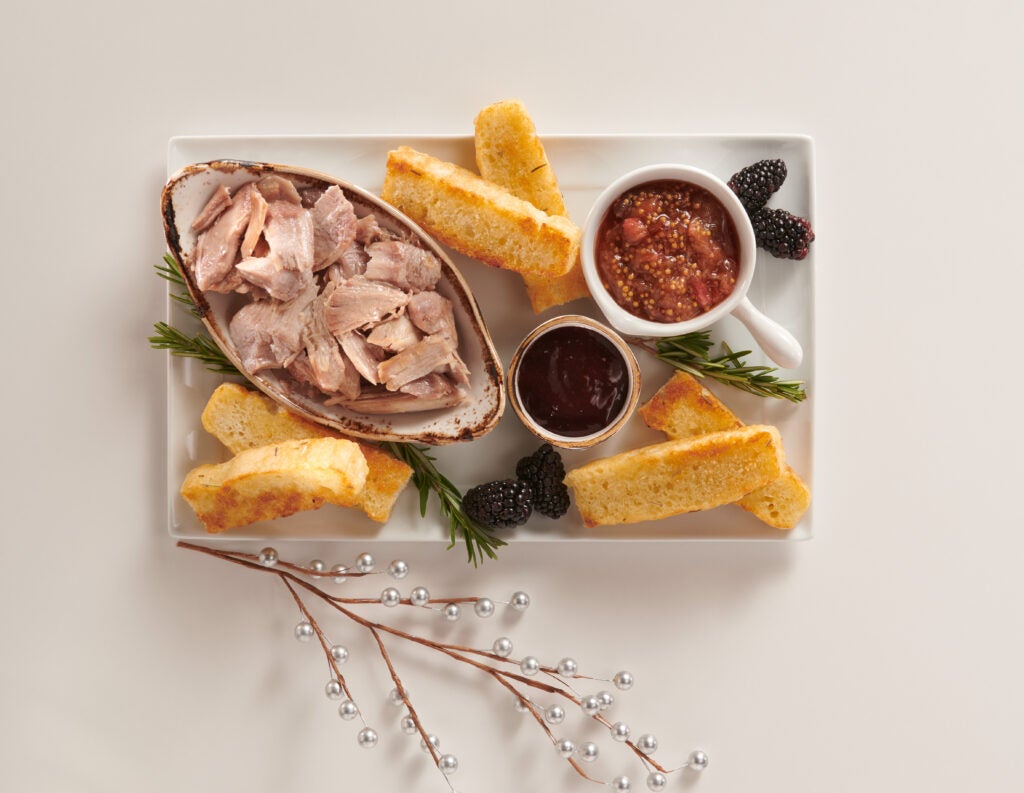 Irish Soda Bread
From: Chef Erin Copeland, Culinary Specialist in Texas
No set rule states that Irish Soda Bread can only be served on St. Patrick's Day. Serve it during the upcoming holidays as a special treat, either with a meal or on its own.
Chef Erin Copeland loves making her family's Irish Soda Bread recipe, and it's one that's close to her heart. It was handed down to her mother from family members born in County Cork, Ireland.
"This is a tried and true family recipe," she said. "When she passes, I will pick up the torch so the tradition continues."
Copeland says the recipe is very straightforward and takes minimal preparation time.
"It's an easy recipe to execute and can be served as a side to a traditional Irish dinner or great as a breakfast or brunch item."
Copeland says the simple ingredients in the recipe create a "soft, buttery quick bread with pops of sweetness from the raisins and currants."
"I look forward to it every year, and just thinking about it makes me want to have a slice or two," she said.
She suggests using authentic Irish butter on the soda bread for best results.