Our batch of spring recipes celebrates all things fresh and vibrant, appropriate for the season of renewal.
As winter slowly thaws and spring moves in, there is a universal craving for fresh, bright flavours that herald the promise of blue skies and new beginnings. Diners today are quite savvy to seasonal ingredients, and keen to see menus they perceive as natural and minimally processed. Our spring recipes focus on garden-fresh preparations with a touch of global flavour and familiar comfort.
Veg-centric cooking
This doesn't necessarily mean vegetarian. It's not about taking away, but rather adding more: more flavour, more options, more creativity. It's about keeping the chicken and upping the ante with nutty red quinoa, cauliflower, Brussels sprouts and lemony arugula for a visually appealing salad that's chock full of bright flavours and textural interest. Our recipe for vegetable frittata shakshuka takes a Moroccan baked egg dish traditionally prepared à la minute and reimagines it as a tender and flavourful frittata that can be prepared in advance for streamlined service. Packed full of vegetables like broccoli, edamame, and potatoes and served with a robust tomato and pepper sauce, this is a dish that's easily customizable and appeals to diners who may be looking for something beyond basic eggs.
Spring holidays
Synonymous with brunch, spring holidays foster a sense of inclusiveness and social connection that is so important in care centre dining. Brunch dishes that span sweet to savoury with a mix of old-fashioned comfort foods and exciting global flavours mean there's something for everyone. Baked oatmeal, bursting with dried fruit and walnuts, is an easy way to elevate an old favourite, while red quinoa buttermilk pancakes make for a filling and not-too-sweet start to the day.
Global flavour trends
An international perspective represents strong opportunity to introduce new ingredients and update familiar favourites. Paratha, a staple to the Indian subcontinent, is a tender and flaky flatbread best described as a delicious cross between naan and a croissant with layers that puff up when griddled. A tasty addition to a snack spread of hummus and fresh vegetables, our featured recipe wraps paratha around a filling of flavourful fajita chicken, tender sautéed peppers, crisp lettuce and cilantro sour cream for a fresh and appealing soft taco.
Featured recipes:
Baked Oatmeal
Comforting oatmeal gets an update with this tasty baked version, loaded with dried cherries, raisins, walnuts and bananas. Served warm with milk and sliced strawberries, it's a satisfying and simple breakfast or brunch option.
Red Quinoa Buttermilk Pancakes 
Wholesome and flavourful red quinoa makes these pancakes stand out from the crowd, adding a depth of flavour to traditional buttermilk pancakes. Topped with fresh fruit and heart-healthy walnuts, they make a great start to the day. As a bonus, the pre-cooked red quinoa can be pulled throughout the menu for savoury salads and sides.
Curry Chicken Quinoa Salad 
Starting with a base of basic red quinoa, shredded red cabbage and lemony arugula are tossed with lightly caramelized vegetables and tender chicken for a composed salad full of textural contrast and bright flavours.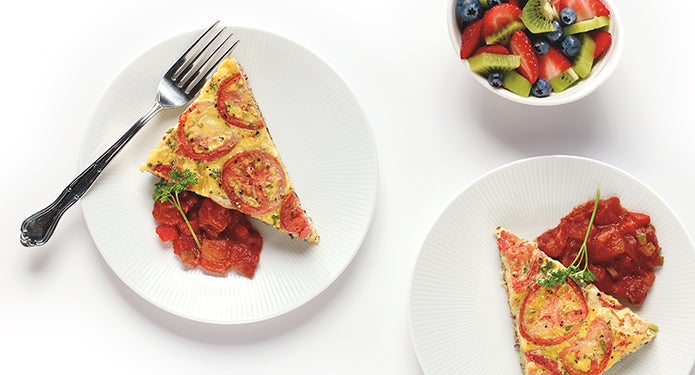 Vegetable Frittata Shakshuka
In an updated and streamlined version of the traditional Moroccan baked eggs, a fluffy and tender frittata is loaded with flavourful vegetables and served on a robust tomato and pepper sauce.
Fajita Chicken Paratha Taco
Flaky paratha bread is wrapped around roasted strips of seasoned chicken and tender vegetables, crisp shredded lettuce and cilantro sour cream for a globally inspired hand-held that's right at home on any menu.
Tilapia with Lemony Arugula Pesto 
Mild tilapia gets a major flavour boost from a generous slather of lemony arugula pesto. Served alongside sautéed seasonal vegetables and a brown rice pilaf, it's a dish that's both fresh and familiar.