Operators are likely going to be serving more colourful plates full of local vegetables and plant-based dishes as part of an effort to become more resource efficient and to please sustainably-minded patrons.
That's not to say meat and poultry are being replaced, but there is a push for smaller eco-friendly menus with less protein that highlights the products of local partners, experts say.
Timothy Tejuco, Gordon Food Service® business solutions specialist, said the shift to this type of menu is catching on.
"I see a lot of vegetable-forward dishes," he said. "Meat is the condiment, like a risotto with a beef red wine demi-glaze. You're getting the same flavour of the meat, but just in a different way."
Gordon Food Service Corporate Executive Chef Kurt Kwiatkowski agrees and says it can benefit operators' bottomline. Less protein cuts costs and more eco-conscious meals is what consumers are asking for. It's a win-win.
"Make the size of the protein option much smaller. You can build a super flavourful beef broth for pho served with local and seasonal produce and a smaller portion of shaved beef, lamb or pork," he said.
According to Sustainability in Motion 2021, a report from the Kerry Group, 58 % of consumers in North America are strongly influenced by sustainability when making a food or beverage purchase at a restaurant.
Tejuco said diners are definitely paying attention. "People are more informed about ethical practices and how their food is sourced," he said.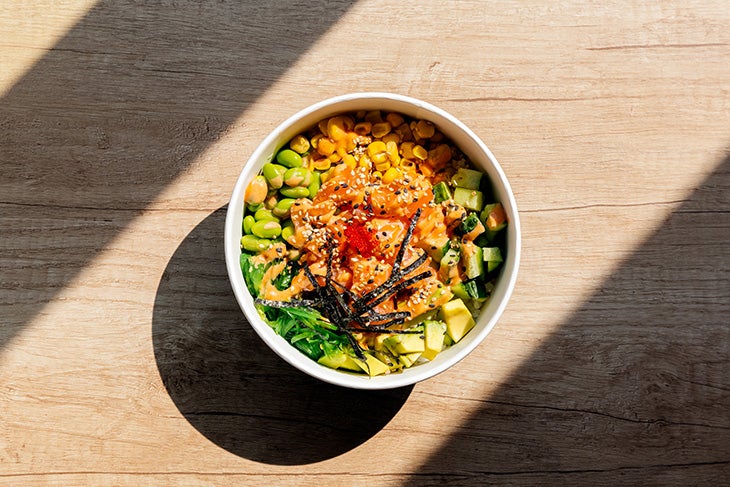 Minimize, Seasonalize Your Menu
One of the ways operators can pivot to a more sustainable menu is to think "seasonal." There is more flexibility which results in less food waste as it allows operators to use products across multiple dishes.
"Your menu doesn't have to be smaller, but it has to be more nimble – one that can be changed and adjusted on a regular basis depending upon availability and seasonality of ingredients," Kwiatkowski said.
In addition, Tejuco said if operators have the ability to grow some of their own items, it's a great way to reduce costs and have fresh ingredients available on the menu. He references a restaurant in Vancouver that has a backyard garden of herbs used in their dishes, and an Italian restaurant that grows their own tomatoes for their sauces.
Benefits Beyond Menu Offerings
Gordon Food Service Stewardship Manager Amy Gautraud said once operators begin to create a more sustainable menu, they may see other positive changes follow.
"By showcasing your sustainability initiatives through menu offerings or transparent communication, you may be able to attract new customers while making a positive impact on the environment or local economy," she said. "You may also find your employees are excited about these initiatives resulting in improved job satisfaction or fulfillment."
Tejuco agrees and suggests sharing where local products are from and promoting farms and growers with whom they partner. "Really showcase that on a menu," he said.
Focusing on sustainability is also beneficial for operators on a financial level, Gautraud said.
"The impacts of sustainability can reach beyond what you expect and could actually help your bottom line," she said. "A focus on food-waste reduction can help manage food cost and allowing your culinary team to think upcycled ingredients and menu items can merge creativity and cost savings."
Gordon Food Service offers its own solutions for operators to begin the sustainability process. Resources, like Clear Choice™ – a product transparency program – allows operators to filter within Gordon Ordering™ to select items and attributes their consumers prefer.