There are few things as stunning as the blue hues of the Mediterranean Sea. So it shouldn't come as a surprise that among the hottest tabletop trends right now is dinnerware coated in Mediterranean colours – especially the blues, experts say.
The prismatic Mediterranean-themed dinnerware is one of several tabletop trends operators should note for the coming year, including small plates, shared boards and specific dishware finishes ranging from matte to textured.
There is also a planet-friendly trend that doesn't seem likely to fade: Sustainable materials and containers. Operators can anticipate seeing that for years to come.
An expert from Gordon Food Service® breaks down what's hot now and what will (literally) be on the table for 2024.
Colours, Patterns on Dishware is Big
There's something warm and inviting about the earthy vibes Mediterranean colours give off. Terra cotta seems to resurface as a trending design colour throughout the years, and its place at the table is no exception this year.
Gordon Food Service® Tabletop and Disposables Product Specialist Jean Van Horn said a string of Mediterranean hues including terra cotta, ochre, burnt umber and chestnut brown continue to trend. Van Horn said those colours apply mainly to dinnerware plates, platters, bowls, cups and saucers.
"Most operators choose two to three of these colours and transition in with existing dinnerware, creating exciting tabletop combinations that guests appreciate," she said.
Mediterranean blue-coloured items, specifically, seem to be the most popular among operators, Van Horn said.
"Growing the fastest from the Mediterranean family are blues. Anything from aqua blue to deep, dark navy blue had the most new introductions at industry and trade shows this past year," she said.
Victoria Greene, business development manager for United Restaurant Supplies says she is also seeing colourful dishware with earthy tones, fun patterns and shapes taking centre stage. 
The soothing colour schemes will highlight the meals served and help create a pleasant atmosphere for customers.
"It's an easy way to stand out and add flair to dishes. It leaves a memorable impression on guests and it's very Instagram-worthy which translates to owners not having to spend extra on advertising. The customers just do it for them," Greene said. "It shows customers that the restaurant went above and beyond and put some honest thought into the experience they want their customers to have."
Fancy Finishes Coat Tableware; Organic-Dish Material on the Rise
What better way to have colourful dish- and serviceware stand out than with a finish that really accentuates. "A trending finish like matte or textured also disguises fingerprints, Van Horn said, and that is a "big advantage" for operators."
Here are some other types of materials still trending:
Melamine: This type of dishware is made with an organic, nitrogen-based compound. Dishes made of this light-weight material are especially nice for patio and outdoor-dining locations, Van Horn said. It looks and feels quite durable and acts as a great alternative to porcelain, glass and ceramic. "In many applications the plastic dinnerware, serving platters, bowls and drinkware are practical trade outs for breakable counterparts," she said. 
Cast iron: Cast iron items seem to defy time. It has been around forever and continues to trend with no end to its popularity in sight. "Baked entrées and desserts are just better in cast iron!," Van Horn said. 
Biodegradable supplies: Experts from Back of House say they are seeing all kinds of biodegradable servingware. Check out the Re.Source™ brand of products or the hundreds of other biodegradable products found on Gordon Ordering™.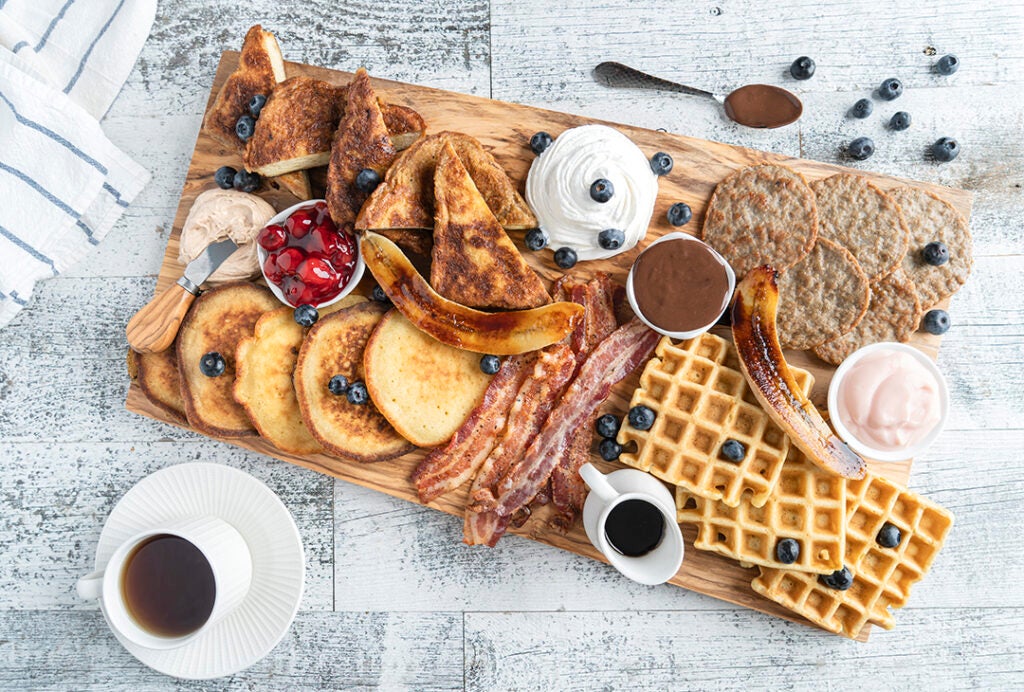 Small Plates, Share Boards Here to Stay
The continued popularity of charcuterie boards and shareable dishes generated the desire for more small plates, share boards and condiment sauce dishes, Van Horn said.
"Asian entrées call out noodle bowls. Thai, Indian and Korean authentic presentations are enhanced with specific ethnic serving pieces as well," she said.
Greene said kitchen smallwares as tabletop items like mini-cast iron pots for individual pasta dishes, for example, and bun pans for fries and burgers is also an industry trend that is really taking off. 
And it doesn't sound like small plates and boards are going away anytime soon. Charcuterie boards were big this year and expected to be again in 2024. The board craze was listed as No. 3 on a list of the Top 10 Hot Trends in 2023, according to the National Restaurant Association.