The line between back and front of house for many industry operators has become blurred as the need for cross-training employees has become crucial for survival.
According to an article in Restaurants Canada posted in March, there are nearly 26,700 job vacancies in the province's food service and hospitality sector, which is 44 percent above pre-pandemic levels.
Gordon Food Service® Culinary Specialist Darren Lexa, located in Calgary, said cross-training has many pros and very few cons.
"Cross-training staff, especially in kitchens, is essential in today's labour-challenged landscape. It isn't practical to have people on restaurant schedules that only know how to perform one job description or one particular skill set," Lexa said.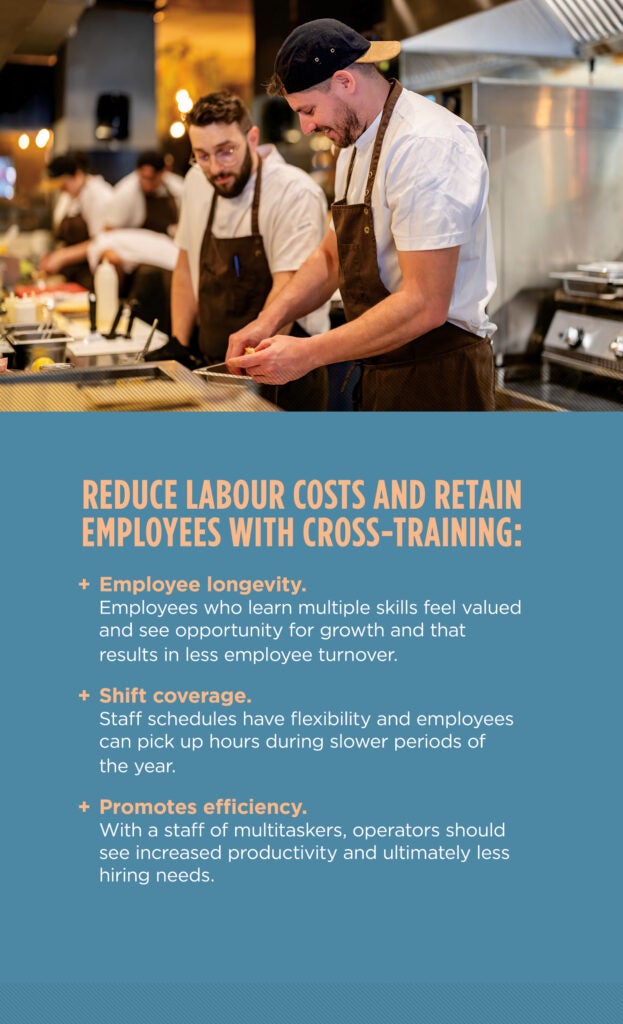 However one reason not to cross-train, Lexa said, is if you're dealing with high turnover.
"You need to have excellent employee retention to ensure the investment you are making in cross-training your schedule is providing ROI with respect to your training time and training dollars. If you are constantly turning over your people – it is very challenging to ever get your schedules optimized in terms of cross-training, which can lead to burnout of those constantly trying to keep up with the training workload.
Lexa says the concept of cross-training isn't exactly new to the industry, but it's becoming more common and essential for many operators to remain open.
"Back in my regional operations-management days, it was the norm and still is with large, high-volume, national multi-unit brands. It was an expectation with respect to creating a culture of challenge and learning and development with our people," Lexa said.
"It was part of the 'course load', if you will, in grooming teams of people to be world-class food service operators.
Teach Them & They Will Stay
Gordon Food Service Culinary Specialist Heidi Kise, based in the Chicago area, said she advocates cross-training for many reasons."Knowledge is power and gives people the opportunity to grow in the organization," she said. "I know it's easier said than done, but explain to staff why it benefits them. That's how you get them on board. When you really believe in it, they will believe in it."
Here is what Gordon Food Service experts suggest:
Be clear: Write out skills needed to be a shift lead, for example, and include any additional responsibilities that may be asked of them.
Reward: Incentivize the employee once he or she masters the additional tasks required of them.
Be specific: Don't over-cross-train an employee as you want that employee to stay as specialized as possible. If they are cross-trained in too many positions, they become generalists.
Fear of Change Halts Implementation
Gordon Food Service Business Solutions Specialist Laura Taningco, based in Ohio, said some are reluctant to cross-train. "I have operators trying to figure out labour issues, but I haven't had anyone pull the trigger." she said. "It is a fear of change and there is a lot of reluctance to reorganize staff into a non-traditional model."
But Taningco said, if operators embrace change, they will have a "better labour pool to pull from" when there are gaps in shift coverage.
The other obstacle operators are facing is that front of house employees worry their wages will be affected if they work shifts in the back of house. "It becomes a conversation of how do you get your staff to understand why we should make this change and why would (the employee) want to be cross-trained, Taningco said.
"Basically operators need to spell out, 'Here's what's in it for you.'"