Starting with simple ingredients, it's possible to create indulgent comfort classics.
The pandemic put parts of 2020 on hold, but it's not stopping the holidays. Food is a big part of the season, and people like to treat themselves with special meals. Whether your guests are dining in or home for the holidays, we have six recipes ideal for the dining room or takeout.
Stollen Muffins
Perfect for weekend mornings, Christmas morning or anytime. These muffins are fruity, festive and filled with a dollop of almond paste. This global-inspired tradition is served in tulip-paper cups for a luxurious plate presence. When prepared for takeout and delivery, they resemble a special gift.
Nordic Beet Salad
Take guests' taste buds to a place where glaciers meet the sea. An edible excursion to Scandinavia wouldn't be complete without this easy-to-execute upscale take on traditional beet salad. The simple addition of lacy Parmesan tuile adds holiday flavour appeal. Since there are no greens involved and it's served cold, this salad works for your in-house and to-go menu.
Mulled Wine
Warm the holiday cheer with spiced wine that's a global comfort classic. The Germans call it gluhwein. In Norway and Holland it's called glogg. Your guests will call it a delicious, comforting and aromatic way to indulge. For operators, it can be served on premise in mugs or glasses, as well as a take-home beverage in lidded cups or even as a gift box.
Miso Sweet Potato Purée
Sweet potato souffle—a staple of the holiday season—gets a global flavour infusion. A paste of Japanese miso blends with the creamy sweet potatoes for a wonderful holiday twist. It's simple to make, with flavours that never disappoint and a luxurious texture that's both familiar and comfortable.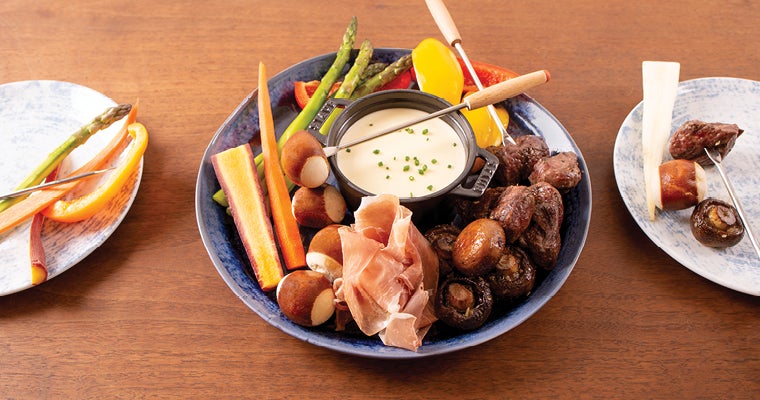 Holiday Fondue Plate
Looking for a cozy, creamy way to make the holidays merry? This French-influenced menu item is an elegant alternative to a cheese board. Fondue works as a starter or entrée, ready to satisfy a table for two or be scaled up to feed a crowd. There's a wow-factor sure to spur in-house orders, plus you can build a kit for takeout and delivery.
Ham-Glazed Berkshire Short Ribs
Add a modern interpretation to a holiday tradition with this pork short rib entrée. What's new? The fall-off the bone texture of short ribs. What's traditional? The meat is roasted and finished with a brown sugar ham glaze accented with raisins and cloves. It looks as elegant on the table as it does portioned for takeout.