A new year means new possibilities for restaurant menus.
What's new? What's next? Chefs and restaurant operators often ask, so we put the question to our experts: What's on the horizon for 2023 culinary trends?
Our Gordon Food Service® Culinary Specialists weighed in on what operators can expect in the year ahead. They had some similar thoughts, starting with a reminder that customers want new flavour experiences and are always willing to pay for good food.
"People come back because restaurants are trying new things and taking old recipes and jazzing them up. It's all about evolving the cuisine to its time and place," said Vancouver's Michael Viloria.
Four Insights for 2023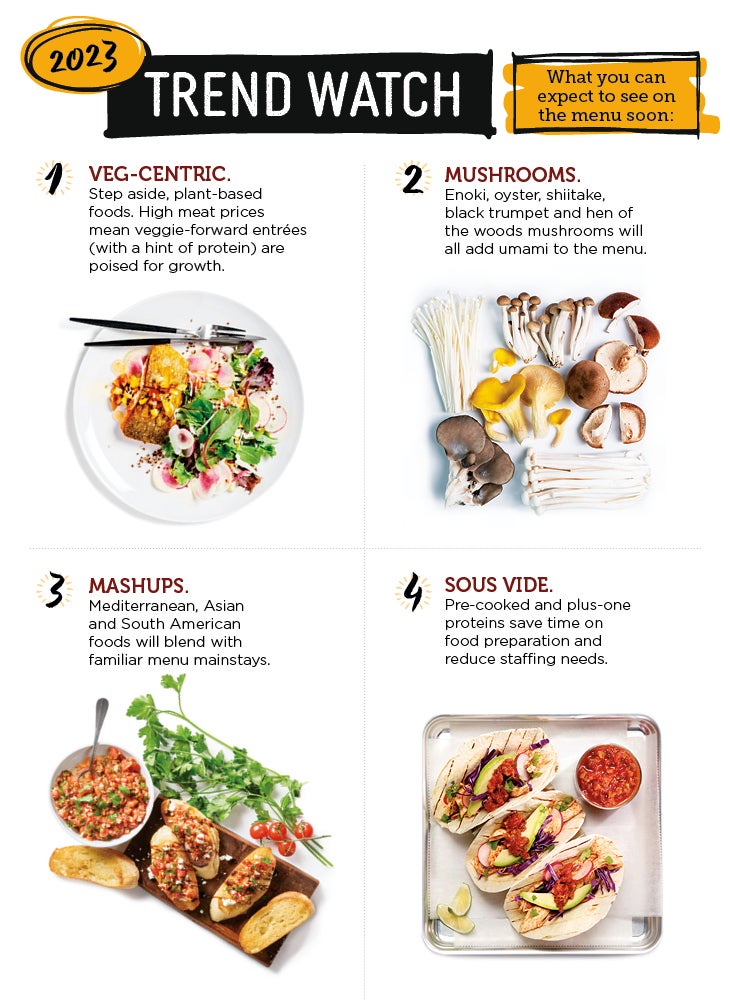 1. Veg-centric sensations. People are pausing on plant-based foods and rediscovering vegetables as a centre-of-the-plate option.
Not limited to vegetarian or vegan, veg-centric can include meat protein in small amounts. The appeal is the flavour notes imparted by aggressive cooking techniques – char-grilling, broiling, smoking, fire-roasting, etc. – and seasonings.
"We're seeing a resurgence in natural plant foods. People are taking cabbage leaves and putting them in a bowl, stuffing them with vegetables, rolling them back, and you've got a cabbage roll dish," David Evans said of the Toronto market. "We're seeing lots of potato dishes, root vegetable dishes being the star instead of being an analog."
2. Mushroom umami. Earthy mushrooms have chefs looking beyond portobello burgers and button mushrooms on salads and pizza.
"Mushrooms are hidden gems of the produce world," Viloria said. "With all of the varieties out there, it's a meat or protein replacement with room to grow – great on their own, but good in stocks, sauces and even tea."
Enoki, oyster, lobster, chanterelle, shiitake, black trumpet and hen of the woods mushrooms all add umami to the menu, plus they absorb flavours to varying degrees while adding colour to the plate. Viloria also recommends chopping small mushrooms into duxelles that can be cooked off for a bolognese dish, chili or shepherd's pie.
3. New mashups. The culinary melting pot continues as people sample unfamiliar cuisines and find similarities. Consider Mediterranean influences on familiar foods. Tomato-based Italian bruschetta becomes Turkish ezme. Traditional pizza becomes a cheese- and egg-filled Georgian bread boat. And it doesn't stop there.
"In Montreal, we have really good Asian food, Indian food, Afro-American food. People from different cultures are putting their own spin on our city's cuisine," said Paul-André Miron Piché. "There's a place that does pho poutine – fries, gravy, bouillon, meatballs, radish, basil, shrimp – a creative twist."
There's also growing interest in foraging and indigenous plant cuisines, Evans said. Three sisters – corn, sweet potatoes and beans – are finding a place on the menu, alongside wild thyme, rosemary and regional herbs familiar to fine French cuisine.
Viloria agrees: "What is trending is a curiosity of what is similar about everyone's cuisine."
4. Sous vide and pre-cooked proteins. Staffing remains a challenge, so operators are looking at cooked, ready-to-heat options to save labour and time.
"The companies that do sous vide and other pre-cooked meats have really stepped up their game, and it's something for chefs to explore," Miron Piché said. "The kitchen just needs to re-therm it and glaze it with a sauce to serve – simple, accessible, less-is-more plating."
Other expectations for 2023

Operators will be looking to solve other menu and back-of-house labour challenges in the year ahead.
Chefs are taking a closer look at pickling and fermenting to stretch the menu. Vinegar-brined veggies and the sharpness of fermented kimchi can elevate menu mainstays.
Newfangled charcuterie-style boards offer a high-margin opportunity as a meal or a shareable. Think of them as an Instagrammable version of the grazing table: cream cheese boards, pickle boards, seafood boards, veggie boards and even butter boards.
Staffing challenges also are forcing changes on the culinary side. In addition to the use of labour-saving sous vide and pre-cooked proteins, operators are seeking to increase efficiency and allow chefs to focus on creativity.
"It's quality vs. quantity. Many restaurants don't have the resources to have 30-plus offerings, so they need to re-establish their concept and who they are," Viloria said. "They don't have to overthink. They can still be who they are without being everything to everybody."