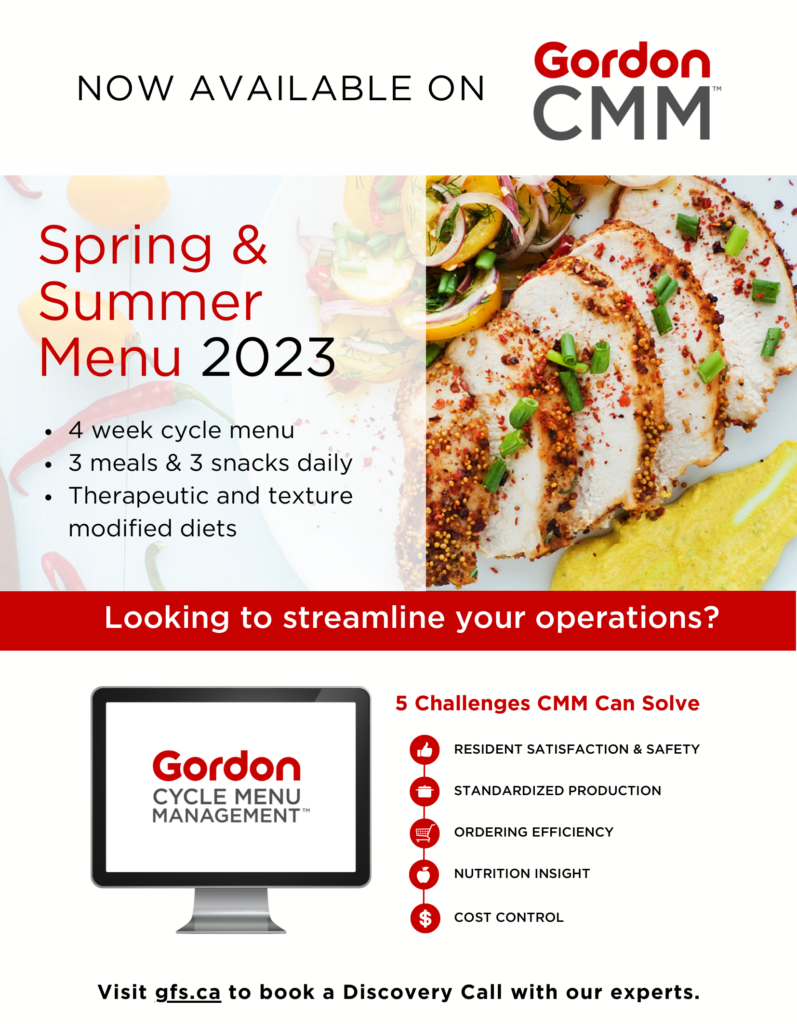 Interested in booking a Discovery Call with our team? Click here
Menu Planning and Cost Management: Insights on controlling costs in the kitchen.
Menu planning is challenging at the best of times. You want a menu that is appetizing, offers a variety of nutritious items, satisfies diners, and can be executed efficiently. In addition to these essential points, menus must adhere to budgetary constraints. Cost management of menus in Senior Living and Healthcare has always been a priority and given the rapid rate at which food prices have been increasing, it has become more challenging than ever.
Follow these 3 steps to tackle cost management of your menu.
Gather information – The only way to know what changes to make is to access the current situation.

Complete a waste audit on the current menu – Have staff record all food and beverages being discarded after meal times. Don't forget to ask those doing production prep to record their kitchen waste as well. If a menu item had a large amount of waste during prep, consider buying value-added items.
Involved staff – They prepare, serve and see firsthand what insight on how food is being received and provide feedback and ideas to improve dishes. Afterall, they do interact with those eating the food daily.
Conduct a meal satisfaction survey – This will allow those eating the food to provide feedback and offer suggestions.
Collect pricing data of your menu or key recipes – Use this information to determine the theoretical cost of your menu.

Analyze it – Date Driven decisions are becoming the standard when it comes to making informed changes. Look at the information you have collected and compare it to established targets.

Review the waste audit and ask some critical questions as to why food is being thrown out. Is the food not appetizing or is it being over-proportioned? Are recipes being prepared properly and consistently?
Start small – Looking at your entire menu can be overwhelming, start with proteins served as they are often the main driver of higher meal costs.
Assessing food cost per day and the cost of ingredients can be simplified and efficient if you are using menu software. Our Menu software, Gordon Cycle Menu Management (CMM), has real-time costing information on the products you buy. CMM users can easily see either the cost of an entire menu or specific ingredients that may be driving costs up.
Look at what you are purchasing – Make sure that you are buying the right products based on your contract. If you are a member of a GPO, ensure you are maximizing your purchasing power.
Review the feedback from residents and staff – Start with the quick and easy fixes, and put a plan in place for more complex issues.

Take Action – Once you have identified your opportunities, it's time to take action. Here are some of the top actions that can help control costs on menus.

Recipe standardization – Standardizing recipes will take the guesswork out of preparation and ensure consistency.
Proper portion sizes – Serving sizes that are too big can lead to unnecessary food waste.
Include items that can be cross utilized in multiple recipes – This will enable you to rotate through products, improve quality, and help eliminate waste.
Communication is key – If somebody doesn't like an item or won't be at the meal service, make sure this gets communicated to those serving the food.
Consider giving more choices at the time of service and offering an always available menu – Providing choice ensures that only requested food items are served.
It's not only food costs that can drive up the budget – Here are a few tips for controlling additional operation costs.
Schedule when you turn on and off the ovens.
Train staff on how to properly use equipment to optimize performance.
Inspect fridges and freezers for leaks and proper installation.
Clean and maintain equipment to prevent costly repairs.